JSC National Atomic Company "Kazatomprom" ("Kazatomprom" or "the Company") announces today that Chief Executive Officer Galymzhan Pirmatov met with the Chairman of the Board of Directors of China National Nuclear Corporation (CNNC), Yu Jianfeng. The meeting was held during the Chinese delegation's working visit to Kazakhstan, with a wide range of topics discussed in relation to activites involving the peaceful use of atomic energy.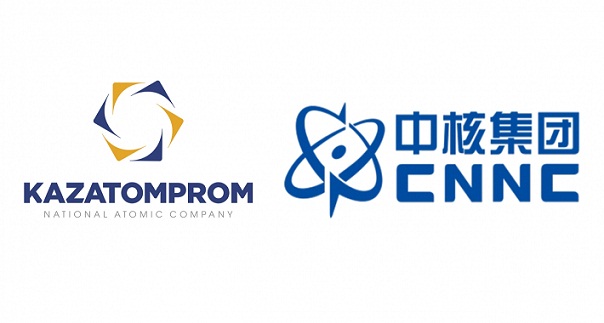 The two companies continue to build and maintain a positive long-term strategic partnership, with both sides expressing an interest in the development of bilateral cooperation covering a variety of areas, including geological exploration, production and processing of uranium, and the implementation of additional joint commercial projects.
For further information, please contact:
Kazatomprom Public Relations and Media Inquiries
Torgyn Mukayeva
Tel: +7 7172 45 80 63
Email: pr@kazatomprom.kz
Powerscourt – London (Giles Read)
Tel: +44 20 7250 1446
Email: Kazatomprom@powerscourt-group.com

Kazatomprom Investor Relations Inquiries
Cory Kos, Head of Investor Relations
Tel: +7 7172 45 81 69
Email: ir@kazatomprom.kz
A copy of this announcement will be made available at www.kazatomprom.kz.
About Kazatomprom
Kazatomprom is the world's largest producer of uranium, with the company's attributable production representing approximately 23% of global primary uranium production in 2018. The Group benefits from the largest reserve base in the industry and operates, through its subsidiaries, JVs and Associates, 26 deposits grouped into 13 mining assets. All of the Company's operations are located in Kazakhstan and mined using ISR technology with a focus on maintaining industry-leading health, safety and environment standards.
Kazatomprom securities are listed on the London Stock Exchange and Astana International Exchange. As the national atomic company in the Republic of Kazakhstan, the Group's primary customers are operators of nuclear generation capacity, and the principal export markets for the Group's products are China, South and Eastern Asia, Europe and North America. The Group sells uranium and uranium products under long-term contracts, short-term contracts, as well as in the spot market, directly from its headquarters in Nur-Sultan, Kazakhstan, and through its Switzerland-based trading subsidiary, Trade House KazakAtom AG (THK).
For more information, please see our newly updated website at http://www.kazatomprom.kz
About China National Nuclear Corporation (CNNC)
CNNC is a large State-owned enterprise under direct management by the central government. It successfully built the first nuclear power plant in the Chinese mainland. CNNC has established a complete nuclear technology industry framework. It is a main part of the national nuclear technology industry and a leading element of national strategic nuclear forces and nuclear energy development. It undertakes missions to ensure national security and facilitate domestic economic development.
JSC NAC "Kazatomprom"